Introduction
Tutorial Videos
LightStanza provides tutorial videos containing instructions on basic tasks
Support Forums
LightStanza has a community support forum, where users can ask and answer questions.

To ask a new question about LightStanza, click here. To look for existing answers, click here.
Still Have Questions?
If you are unable find the answers you are looking for, feel free to contact us directly.
LightStanza Office: (720) 722-0771 (during business hours M-F 8-5pm MT)
Email: support@lightstanza.com (24 hours, 7 days a week!)
Overview
LightStanza Electric Lighting is done with both the LightStanza Revit Plugin as well as the LightStanza Web Application.
The LightStanza Revit Plugin showing its export to LightStanza screen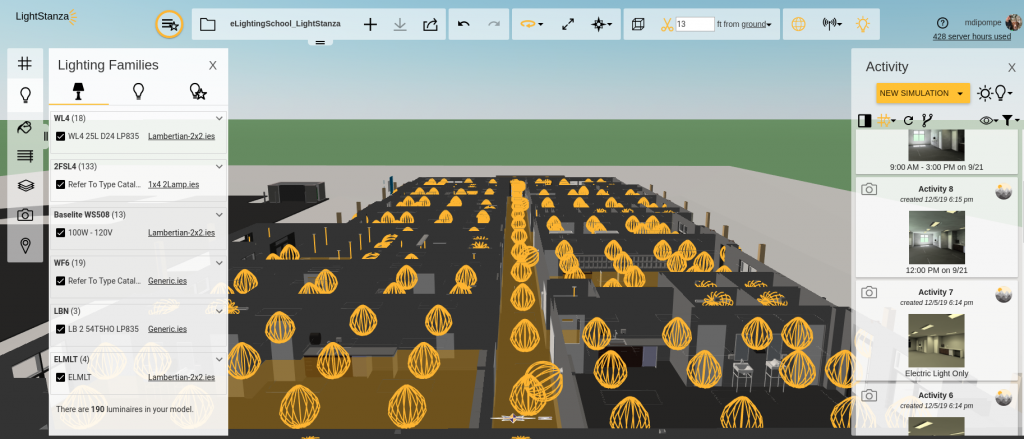 The LightStanza Web Application illustrating (left panel) family manager, photometric webs of IES file assignment and (right panel) rendering and calc results.
LightStanza Revit Plugin is used for:
Bringing in 3D Revit building geometry
Luminaire layout (soon can have partial ability to do in the LightStanza Web Application)
Assigning IES Files (optional– most users prefer to use the LightStanza Web Application)
Family filtering to reduce model size and improve performance
Model cropping to reduce model size and improve performance
Selecting spaces or rooms as the unit of analysis and improve performance
LightStanza Web Application is used for:
Editing building material assignments
Upload .Ies files directly into your families or library
IES to family mappings
Advanced IES file management and manipulation (LLF, resizing IES file to fixture, etc)
Lighting family management
Rotating/Moving/Changing heights of fixtures.  Each family instance can be individually addressed.
Setting Emergency Lighting calculation fixtures and levels
Running calcs
Viewing calc results in 2D or 3D
Storing and Retrieving calcs
Tagging teammates, others in your company without LS accounts, or people outside for instantly sharing or publishing your results on the web
LightStanza Revit Plugin
Electric Light Modeling and Analysis works in conjunction with the LightStanza Revit Plugin which can be found on our Plugins Page.
The LightStanza Plugin will load the Revit model in view, and its associated linked files.
Step 1. Put Lighting Families into your Revit model (note we are working on allowing you to put fixtures directly into the LightStanza Web Application)
Step 2. Move to a 3D view if you are not in one already.  LightStanza uses the current Construction Phase.  Also you can use a Section Box to crop geometry
Step 3. Click the "Export to LS" or "Save to disk" on the Plugin Bar
"

Export to LS

" (

1

) is the normal workflow to initiate sending your model to the LightStanza Web Application
"

Save to disk

" (

2

) will save a LightStanza Design (.lsd) file to your local disk that can be directly loaded into LightStanza.

This is most useful to convert your Revit drawing to a LightStanza Design to share with someone else who has the LightStanza application (without needing to use Revit).
You can use this for when you do not have an internet connection and want to upload later

Step 4. Check Options.
If you want to run an Electric Lighting Calculation check "Perform electric ligthing calculations" (

1

)
"Calculation Area of Interest" (

2

) allows you to crop your model to a particular level, room or space before uploading to LightStanza
"Filter Revit Families" (

3

) gives options to reduce your model size.  If "Automatic Sync changes…" is turned on, families that are checked and unchecked are dynamically loaded into the LightStanza canvas
"Automatically sync changes from Revit to LightStanza" (

3

) sends only the changes to LightStanza so models do not have to be uploaded multiple times.  This is useful if you want to create, edit, delete fixtures in Revit and only want those changes to propagate.
Create Illumiance Grids Using Rooms or Spaces (

4

) gives you flexibility on the unit of analysis
Workplane illuminance grid heights are set here (

5

) .  You can also change them within the LightStanza application.
Step 5. Your file is uploaded if "Export to LS" was checked or saved to disk if "Save to disk" was checked
LightStanza Web Application
Step 1. In LightStanza, assign IES files with the Luminaires tab that were not assigned inside Revit (most users prefer this route)
IES files can be uploaded directly to the family or placed in a team library for later retrieval
Step 2. Configure lighting
Set emergency lighting (if needed)
Open the luminaire manager

To view IES file details, BUG rating, Photometrics, Fixture options, etc.
To change LLF, Fixture dimensions, etc.

Edit family instances for rotations, height adjustments, etc.
Step 3. Run calculations